Hot News RSS Headlines |

Sign-up for the latest information on our Services and Products. We will send the latest clinic schedules, promotions in sales and service, or important information about your Mac. Enter your email and click submit

Get the most out of your Mac. Sign up for a Clinic.
[ more details ]
You got a question? We got the answers.
[ more details ]


10 | 09 | 2007
Come see us at the InterBike Show in Las Vegas September 26, 27, 28 at the Sands convention centre.

With over 1,000 of the top brands and nearly 22,000 attendees from over 60 countries, Interbike is the ultimate blend of industry leaders and innovative products in the bicycle business. Interbike is the largest bicycle trade event in North America and one of the most important stops on the global trade show calendar. Evolution will be showcasing XSilva's OS X based Lightspeed POS software in conjunction with Martin Swiss Bikes Prepare for three packed days of exhibits, product launches, meetings and a celebration of the bicycle business at Interbike 2007! Hope to see you there!
10 | 05 | 2007
Apple special event September 2007.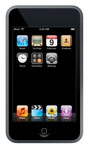 Apple introduces the new iPod touch featuring Apple's revolutionary multi-touch user interface that enables users to find and enjoy all of their music, videos and more on its gorgeous widescreen display with just the touch of a finger. Apple also introduces the all new iPod nano, bringing video playback, an enhanced user interface featuring Cover Flow, and an incredible new design to the world's most popular music player.


We believe technology is an invaluable resource that helps build better communities. Evolution Concept is committed to helping the community through a long-term commitment that will encourage, enable and enhance change.



The all-new, all-in-one iMac packs a complete, high-performance computer into a beautifully thin design.

Our clients are using their Mac systems to Full Potential. We wanted to share some of their stories with you because the best way to learn about everything Mac can do is to see what others have done with it.
[ more details ]



As I sit here contemplating what I will write for my first ever blog, I am thinking of what links me to our clients, and what writings would be of great interest to you.
[ more details ]